Luxury hotel MARINA BAY SANDS has been designed to be the leading business, leisure and entertainment destination in Asia with it's unique and luxurious design. The investment reaches the $5 billion. It's boat-shaped 'SkyPark' perched atop the three 55 storey towers and 2,560-rooms. This three towers are connected with a one hectare roof sky park offering 360-degree views of Singapore's skyline and featuring a 150-meters infinity pool, landscaped gardens with over 900 different types of trees and plants, dining facilities (exclusive restaurants including The Sky on 57 which is run by Singapore's celebrity chef Justin) Quek, an entertainment venue.
The Sky-Park's infinity-edged swimming pool , with a 475-foot vanishing edge, is perched 200 meters above the ground, and the observation deck offers visitors the unique opportunity to feast their eyes on the unforgettable panoramic view.
 While the water in the infinity pool seems to end in a sheer drop, it actually spills into a catchment area where it is pumped back into the main pool. At three times the length of an Olympic pool and 650ft up, it is the largest outdoor one in the world at that height. 
The world-renowned architect, Moshe Safdie, who is responsible for the design of the Marina Bay Sands, said, "When we positioned the SkyPark on top of the separate towers, it then connected them as a cohesive unit, creating what is now something of a symbolic gateway to Singapore.  It also became a spectacular opportunity to position many of the amenities of the Hotel, including gardens, restaurants and a one-of-a-kind swimming pool. It was important we capitalised on the swimming pool's unique location 200 meters in the air, so we created a dramatic 150-metre long infinity edge facing the city.  The infinity edge combined with the pool's iridescent tile finish blends the pool water surface seamlessly with the Singapore sky."
Marina Bay Sands stretches longer than the height of the Eiffel Tower or as long as four and a half Airbus A380 jumbo jets. The gravity-defying cantilever is one of the largest of its kind in the world.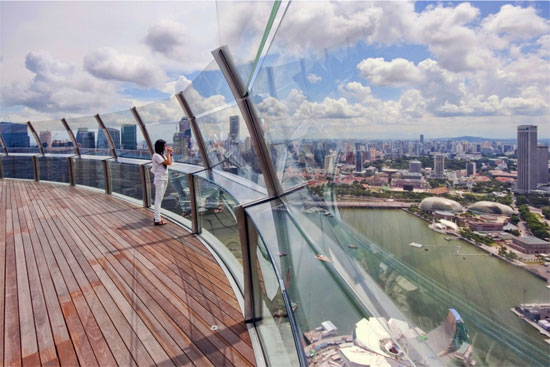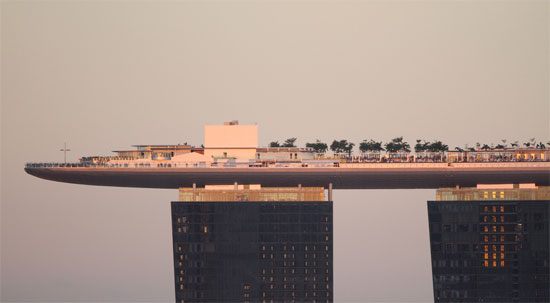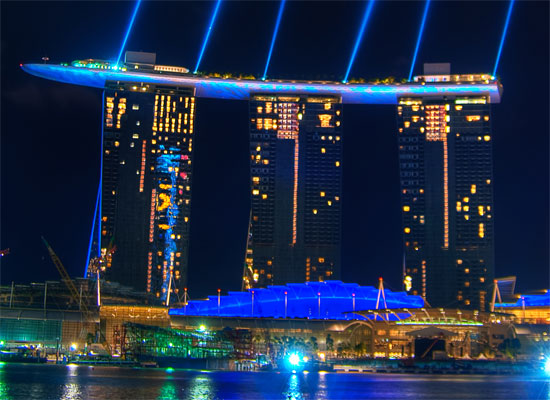 In spite of the complexity and magnitude of the project, the Sands SkyPark pool was built over a mere span of 7 months. The speed of construction can be attributed in a large part to the pre-fabrication of the stainless steel.
View from DNA Bridge. Photo by Timothy Hursley
Casino. Photo by Timothy Hursley
Quick Facts On The SkyPark Pool
Length:   150 metres
Breadth:   8 metres usable breadth
Depth:   1.2 metres
Total volume of water:   1.4 million litres
Total pool surface area:   1,396 m2
Elevation:   57 stories, 200 metres above ground
Weight of pre-fabricate stainless steel used:   192 kgs
Number of tiles used:   254,000
information taken from internet sites
official link http://www.marinabaysands.com/